Rachel Mullen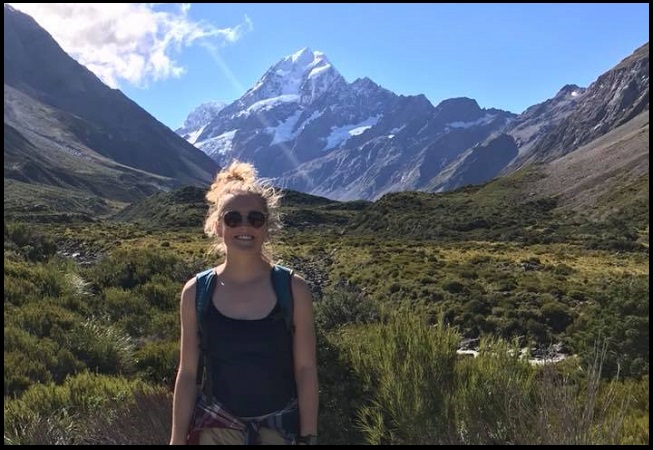 NAME Rachel Mullen
AREAS OF STUDY Global Business – Energy Management major, Psychology minor
WHERE SHE STUDIED Massey University, Palmerston North, New Zealand
TYPE OF PROGRAM Non-affiliated program
DURATION Semester
WHY SHE CHOSE NEW ZEALAND "I chose New Zealand because I grew up in Wyoming, a remote state with few residents. I felt that New Zealand was very similar to this and that I could find some of my roots by studying abroad here. I also liked the fact that I didn't have pressure to go to different countries and I could immerse myself in the culture I was in rather than traveling long and far every weekend."
HER EXPERIENCE AT MASSEY UNIVERSITY: "Beyond my international business and psychology classes, I also had the opportunity to be a Global Student Athlete at Massey University. I was given a scholarship, personal trainer, specific training regime, and access to an elite gym on campus after being accepted into the program. It was a wonderful opportunity to experience the sports culture in a different country, being a student athlete on campus at UTD."
MOST VALUABLE THING SHE LEARNED: "The most valuable thing I learned in New Zealand was how to identify myself to other people who couldn't quite grasp the complexity of my culture. Coming back, I am much more aware of my role as an American woman in this world and it has shifted my view in many ways."
HOW STUDY ABROAD CHANGED HER: "Studying abroad actually helped me to decide what I wanted out of life. After returning, I completely changed my post-graduation plans and shifted my career goals. I learned about the broad range of possibilities out there and decided I wanted something different than my original plans. Study abroad gave me this insight that I probably wouldn't have found otherwise."
HOW STUDY ABROAD ENRICHED HER TIME AT UTD: "Study abroad has opened up countless opportunities for me at UT Dallas in terms of making connections and further learning opportunities. After traveling abroad, I always come back wanting to learn more about the place I have just visited in terms of their language, culture, and history. In addition, most of my friends have studied abroad and I have made so many connections and long-lasting relationships through my study abroad trips and post-trip involvement."
HOW STUDY ABROAD CONTRIBUTED TO HER FUTURE GOALS: "In the future, I hope to utilize my experience and skills earned while studying abroad in the workplace, within relationships, and personally to appreciate the cultures, people, and ideas around me. I have made it a goal to continue to expand my global experience and appreciate new cultures."
HER TOP TIP FOR STUDENTS INTERESTED IN STUDYING ABROAD: "If you are interested in studying abroad, I recommend looking online at how affordable it can be(!!), talking to other students who have studied abroad, thinking about where you would like to go, and talking to your advisors to help you begin planning. It's an amazing experience that I think most people regret not doing. Don't be one of those people!"
THE MOST COMMON QUESTION SHE GETS AS A PEER ADVISOR: "I get two questions very often. They are "Isn't study abroad really expensive?" and "Who did you go with?" For the former, we are all at an institution that is just waiting to find the right people to give scholarships to. There are plenty of ways to keep studying abroad within your budget. Whether it be with scholarship, cheaper programs, exchange agreements, or other methods, study abroad doesn't have to break the bank. For the latter, I went on my trip all by myself because I believe that's the best way to do it. You learn about being independent, responsible, smart, and courageous really quick when you have to do it all by yourself. Sometimes the best way to find out is just to do it."
Related Information