Samantha Lee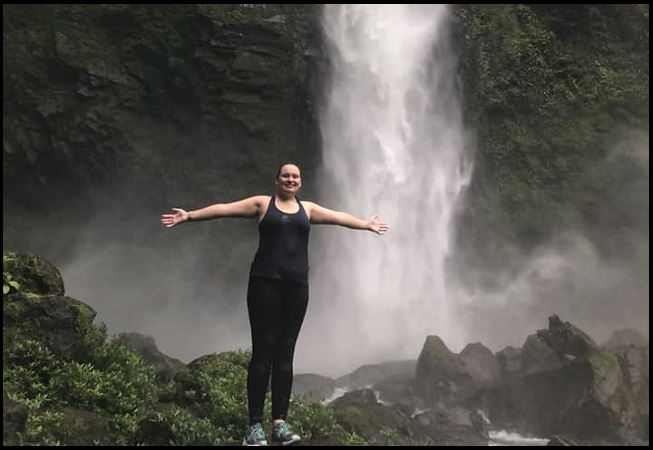 NAME Samantha Lee
AREAS OF STUDY Healthcare Studies: Public Health
WHERE SHE STUDIED Universidad Veritas, San José, Costa Rica
TYPE OF PROGRAM Affiliated partner program
DURATION Summer
WHY SHE CHOSE COSTA RICA "I chose Costa Rica due to its rich history and environmental conservation. Visiting Costa Rica allowed me to learn about national conservation, witness a different kind of national health system, and to visit an indigenous peoples that I had learned about from a UTD professor. I also wished to improve my Spanish language proficiency within a limited budget from my scholarship, which led to me to look at Central America."
HER EXPERIENCE AT UNIVERSIDAD VERITAS: "The first month of my study abroad was a classroom portion where I took Intermediate Spanish for Healthcare Professionals and Tropical Medicine. During this time, ISA had established excursions for us to explore different areas of Costa Rica, and Universidad Veritas had student organizations related to Latin American dance and cooking. I spent the second month of my study abroad placed at Parque La Libertad, an environmental park where I learned about conservation and sustainability. I worked in the park's nursery and environmental education center."
MOST VALUABLE THING SHE LEARNED: "The most valuable thing I learned was the importance of working in a community rather than for a community. Whether I was attending school or volunteering, integration into the community was crucial for a successful study abroad. This promotes sustainable partnerships, and when working in a developing country, sustainability is crucial for positive change."
HOW STUDY ABROAD CHANGED HER: "Prior to studying abroad, I had never even been on a plane alone, let alone lived in a foreign country without family and friends. I learned where I needed to grow, and I was able to explore my dreams of international work. Today, I am a lot more fearless and self-assured. I learned so much from my experience, and I believe this was an integral portion of my growth at UTD."
HOW STUDY ABROAD ENRICHED HER TIME AT UTD: "My time at UTD has been enriched by study abroad through improving my Spanish fluency and contributing to my understanding of different healthcare systems and care on an international scale. Additionally, my study abroad experience has been used to satisfy requirements for the university's Peace Corps Prep Program and for the new Global Citizen Service Honors."
HOW STUDY ABROAD CONTRIBUTED TO HER FUTURE GOALS: "I used study abroad as a 'proto Peace Corps' to test how well I could live and work abroad, and I found that I enjoyed international work. I will be continuing to work abroad now that I have been invited to serve in the Peace Corps in Eswatini. I like to say that Costa Rica gave me a real travel bug, and it has encouraged me to look at graduate school and career options abroad."
HER TOP TIP FOR STUDENTS INTERESTED IN STUDYING ABROAD: "Costa Rica's national phrase is 'pura vida,' meaning 'pure life,' and I believe that this phrase is the key to a successful study abroad. When you're abroad, you will come across unforeseen challenges, make mistakes, and grow in your self-reliance. This is part of living in a new environment, and is especially exacerbated by language and cultural barriers. It can be very difficult, but take time to reflect on what you're experiencing, take a deep breath, and let yourself live that pure life."
THE MOST COMMON QUESTION SHE GETS AS A PEER ADVISOR: "The most common question I get is 'How do I decide where to go?' The best way I answer this is to say that I cannot answer this for you! Only you can know what you're looking for in a study abroad experience. Write down what you want from your study abroad experience (language immersion, budget limit, host family or dorms, etc.) and there is almost always a trip that fits what you want. There is no 'one size fits all' for study abroad, so don't be afraid to keep looking and find what works best for you."
Related Information